Mihajlovic: We don't have time to wait, Serbia has to connect with the region as soon as possible
Tue, 03-05-2019 - 13:30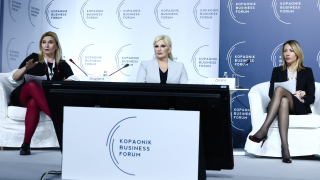 Deputy Prime Minister and Minister of construction, transport and infrastructure, prof. Zorana Mihajlovic PhD., said today that infrastructure connection with the region and Europe is a priority for Serbia and that a new investment cycle worth more than five billion euros is directed towards it.
"Serbia has no time to wait, it is important for us to connect as soon as possible with Europe, because a lot of time has already been lost," Mihajlovic said at a panel on Kopaonik Business Forum, entitled "Infrastructure Development in the Region - the Presumption of Stronger Connection".


She cited as an example that when Serbia began investing in railways in 2012, it entered the process with at least 10 years of delay, while at the same time others invested in Corridor 4, although that route is longer than the Corridor 10 route.
"Everyone is welcome to invest in Serbia, but everything that is being built in Serbia, regardless of where the contractors come from, must be in line with European standards. For example, for the Belgrade-Budapest highway, a notification body has been selected that will check that everything that is built and installed, from the beginning to the end of the project, is in line with all standards, "said the Deputy Prime Minister.  
Speaking of the most important results in the previous period, Mihajlovic said that since 2014 almost 300 kilometers of highways have been asphalted. "Corridor 10 is practically completed, that is, there are a few more points on the southern and eastern branches, including the Grdelica gorge. On Corridor 11, towards Montenegro, it was released into traffic of the section Ljig-Preljina, section Obrenovac-Ub is completely asphalted, and in the final phase are the works on the section Lajkovac-Ljig, which is also practically completed, "she added.
"The lesson we have from the previous period is that projects have to be well prepared so that they can be implemented efficiently and in time. Projects on Corridor 10 are late, not due to the lack of financial resources, but because they were not well-prepared projects or were the expropriation was not completed on time "added Mihajlovic, and emphasized that special attention must be paid to project planners' houses whose capacities are often insufficient.  
She pointed out that by 2012, the railway was completely ignored and that not even one km of the railway has been renewed nor modernized. "Over the past few years, we have reconstructed about 500 kilometers of railways, alike on the main rail corridors and regional railways, and reformed railway companies. Also, this year we are starting construction of the first intermodal terminal in Batajnica, "said Mihajlovic.


Mihajlovic added that air traffic is a leader when it comes to compliance with European standards, and that Serbia will soon have three international airports in Belgrade, Nis and Kraljevo.