Mihajlovic: We have finished Corridor 10, it's a construction masterpiece
Wed, 05-08-2019 - 09:35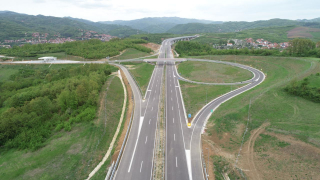 Deputy Prime Minister and Minister of Construction, Transport and Infrastructure, prof. Zorana Mihajlovic PhD., told "Blic" that the last section of the North fork of Corridor 10, the highway through Grdelica Gorge, is completed.

She pointed out that Serbia is now finally connected by a 600 km long highway from north to south, from the border with Hungary to the border with Northern Macedonia.
 
"We have finished what has been talked about for years, what we have been waiting for for decades. We are opening a new highway through the Grdelica Gorge, 26.3 km long, the last section in the southern part of Corridor 10. As I promised, before the start of the summer season, those traveling to Greece for summer vacation will have a complete highway through our country, "says Mihajlovic.
Deputy Prime Minister points out that the completion of Corridor 10 is much more than the highway itself.

 
"Completion of this section is a real construction masterpiece and it shows that we are capable and capable of big things as a country and as society. There were many problems, nature tried its best to make it harder for us to work, and there were a lot of those who doubted and who did not believe that we would succeed, but in the end, knowledge, perseverance and will prevailed. This is the proof that we should never give up, " Mihajlovic said.

 
She added that the President of Serbia will soon be in Grdelica, the entire Serbian government, all who took part in this project, in order to open this last section of the highway.

 
"Serbia deserves to mark this holiday decently. All the companies and employees who built this highway will be there, those who are the most deserving, all who took part in financing, engineers, contractors, our friends from the neighboring countries ... Everyone who, with their work and skills, helped to build this highway, " says Mihajlovic.
Deputy Prime Minister announced that by the end of the year two new highways will be completed and released into traffic: first one from Nis to Dimitrovgrad and the border with Bulgaria, and the other from Obrenovac to Ljig, which will be connected with the already constructed highway to Preljina on Corridor 11.