Mihajlovic: We have invested 24 million euros in communal infrastructure, Krusevac can be a "green city"
Thu, 06-18-2020 - 13:31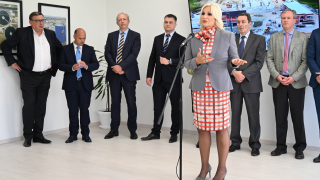 Deputy Prime Minister and Minister of Construction, Transport and Infrastructure, Prof. Zorana Mihajlovic, phD, visited today the newly built wastewater treatment plant in Krusevac and said that this city sets new standards in Serbia when it comes to investments in infrastructure and care for the environment.

"This plant, which is currently in trial operation, will be the most modern in this part of Europe, and Krusevac as a city sets a standard for other cities on how to take care not only of traffic infrastructure, but also of communal infrastructure and healthy living environment ," said Mihajlovic.

She stated that a total of 24 million euros was invested in the construction of the plant and network of collectors longer than 60 kilometers, from the program with the German development bank KfW, and that another 16 million euros will be invested in the construction of a regional solid waste landfill in Krusevac.

"Krusevac is an example of a city that is changing and I believe that with everything it has done, it can seek to be a "green city" next year," said Mihajlovic. She added that the processes in the plant include, for the first time, solar drying of sludge, which is then used for energy production, and that it is an example of economic and environmental efficiency.

Deputy Prime Minister emphasized that a new highway is being built near Krusevac, Morava Corridor, which is being worked on 24 hours a day, but that the country is also investing in "Rosulje" Airport. "This year, about 32 million dinars have been provided for the equipment and operation of this airport, primarily for the construction of the hangar, and the plan is to invest about 6 million euros in it by 2023 so that we can use it much more." Everything we invest in infrastructure is important because of new investments, but also because people could stay and live in Krusevac, and they can easily reach other places in Serbia, they can work in them, and they will return to their city, which is developed and clean ", said Mihajlovic.

The mayor of Krusevac, Jasmina Palurovic, said that today Krusevac is becoming a place from which to new standards in wastewater treatment will start as well as environmental protection. "In the next period, the whole city of Krusevac will be covered by a network of collectors, and only purified water will flow into Morava river," she stated.

The director of the Office of the German Development Bank KfW in Serbia, Arne Goss, said that the plant was built in accordance with the highest standards and that, in addition to being the most modern in Serbia, it is also an example for the region. He added that around 24 million euros have been invested in communal infrastructure in Krusevac, and that new projects are planned, including the construction of 8 more wastewater treatment plants in municipalities across Serbia, as well as a program for water supply and wastewater treatment for smaller municipalities in Serbia.

The head of Rasina administrative district, Branislav Vesic, said that investments in communal infrastructure are a condition for the survival and development of this part of Serbia. "Apart from the completion of the wastewater treatment plant in Krusevac, plants in Brus and Blace will also be built, and the total investments in the communal infrastructure in Krusevac and the district should amount to around 50 million euros," Vesic stated.

The director of PCC "Vodovod" Krusevac, Vladimir Milosavljevic, said that Krusevac with this plant will be ecologically one of the most organized and most modern cities, which will permanently solve the problem of collecting and treating wastewater.

Mihajlovic visited the new airport "Rosulje" in Krusevac before the wastewater treatment plant, where works on the construction of the hangar are being executed.