Mihajlovic: We have a solution for the dispute between RGZ and notaries, citizens will no longer have to go to the counters for a list of real estates
Mon, 06-22-2020 - 13:44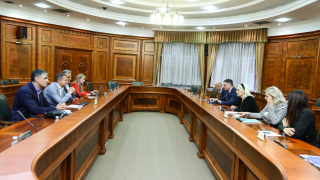 Deputy Prime Minister of the Republic of Serbia and Minister of Construction, Transport and Infrastructure, prof. Zorana Mihajlovic phD, held a meeting today with the director of the Republic Geodetic Authority (RGZ) Borko Draskovic and the management of the Public Notary Chamber, led by Srbislav Cvejic, in connection with the issuance of real estate lists to citizens.

At this meeting, an agreement was reached on the text of the Decree, which will be discussed at the first session of the Government. If the Government adopts this proposal for the Decree, the citizens will no longer have to come to the RGZ counters for a list of real estate, but the complete job of transferring the real estate will end up with a notary.

In addition to this issue, they discussed the even more efficient procedure of real estate registration, cadastre reform and Serbia's progress on the Doing Business list.

"Just as we recently corrected one of the greatest injustices and enabled more than 30,000 citizens of Serbia to register their property in the real estate cadastre, so our goal is for other cadastre services to be as efficient as possible for citizens, not to have crowds at counters, and there is an important role of both the RGZ and the Public Notary Chamber ", said Mihajlovic.

Deputy Prime Minister emphasized that she would continue with the reform of the RGZ, in order for that institution to function even more efficiently and contribute to the further improvement of the business environment in Serbia.

"The procedures conducted by the RGZ are very important for the progress of Serbia on the World Bank's Doing Business list, so that the registration of real estate is as efficient as the issuance of construction permits. Also, the RGA will have an important role in the reform of spatial plans, e-space, which will enable the electronic procedure to be introduced in the field of planning documentation," said Mihajlovic, who is also the president of the Joint Group for Improving the Position of the Republic of Serbia on World Bank's list of business conditions - Doing Business.