Mihajlovic: We invest five billion euros in railways because we want to bring passengers and freight back to our railroads
Tue, 09-03-2019 - 13:21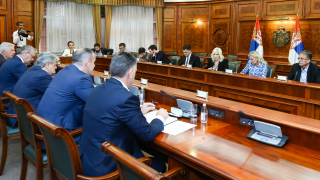 Deputy Prime Minister and Minister of Construction, Transport and Infrastructure, prof. Zorana Mihajlovic PhD., said today that the value of investments in railways is around EUR 5 billion, that passengers on the modernized railway line are returning to the train as a means of transport and that the next goal is for Serbia to use its advantageous position as a transit route for freight.
 
Mihajlovic, who had a meeting with the directors of the railway companies today, told reporters in the Government of Serbia that, compared to 2012 and 2013, when the Serbian lines were running from 20 to 40 kilometers per hour and not a penny was invested in the reconstruction of the railway tracks, today the picture of the railway is slowly changing.
 
"Since 2014, we have rolled up our sleeves because to us, rail is just as important as the highways we build. In addition to building Belgrade-Budapest fast railway track and reconstructing railway Bar, we also invest in regional lines. In 2018, 2019 and 2020, a total of 800 kilometers of regional lines will be reconstructed," Mihajlovic said.
She said that thanks to the reconstructions, trains on the railway from Belgrade to Valjevo, from Belgrade to Vrsac or from Sabac to Zvornik today average between 80 and 110 kilometers per hour and that on some routes there are up to 60 percent more passengers. "It shows that people want to take the train, but a train that will be modern, tidy and as fast as the bus," she added.
 
Mihajlovic emphasized that coordination between them is especially important for good results and efficient cooperation between railway companies.
 
Acting director of Infrastructure of the Railways of Serbia, Miroljub Jevtic, said that regional railways were in very poor condition because they had not been invested in for a very long time, either 50 or 100 years, and that the plan was to reconstructs about 800 kilometers of regional lines from 2018-2020, in which about 330 million euros will be invested.
"Sabac-Loznica railway line used to go from 10 to 30 kilometers per hour, now it goes 80 kilometers per hour, from Lapovo to Kragujevac it went up to 40 kilometers per hour, and from October it will go 100 kilometers per hour, which means that "It will take less than half an hour to get from Lapovo to Kragujevac, at a lower price than by bus," Jevtic said, adding that it is important that freight capacities for freight are increased through reconstructions.
 
Acting director of Serbia Train, Jugoslav Jovic, said that since 2015, 21 electric motors of "Stadler" trains, and 27 Russian diesel-powered trains, had been purchased, that the modernization of the Zemun Technical and Passenger Station was soon underway, and that 100 million euros have been set for a new EBRD loan for the purchase of up to 20 electric train sets. "Among the best lines currently are lines from Belgrade to Vrsac and Valjevo, where we are seeing an increase in the number of passengers, and that shows how important railroad modernization and investment in new trains are," Jovic said.
Acting director of "Serbia Cargo", Dusan Garibovic, said that since the beginning of the restructuring of the railway companies in 2015, "Serbia Cargo" has "neutralized" the debts inherited from the single railway company, to operate on the open market, that it has procured 16 state-of-the-art vector locomotive and employed 186 young engine drivers.