Mihajlovic: We must preserve the economy and the health of citizens
Sat, 07-11-2020 - 11:28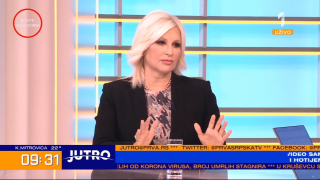 Deputy Prime Minister and Minister of Construction, Transport and Infrastructure, Prof. Zorana Mihajlovic, phD, stated today as a guest in the morning program of TV Prva that the epidemic caused by the corona virus, in addition to the health system, leaves serious consequences on the economy - both in the world and in Serbia.
"I must emphasize that if we did not have a stable and good budget with which we entered 2020, we would be in collapse today. There are certainly consequences, but it is important to preserve health so that as many people as possible can work. "We will make priorities and bring the necessary measures in order to survive economically," she said.
Mihajlovic added that it is not easy for the state, but that the budget will be redistributed in accordance with the priorities.
"Apart from health, construction and agriculture are certainly important sectors because they can extract GDP. It is now important that each of us takes care of health safety, that we adhere to the measures so that we can work. "When the vaccine appears, everything will be different, until then we must be aware of the epidemiological situation," she said.
Mihajlovic added that some of the adopted measures will be relaxed again when the situation stabilizes, and until then we must be responsible and be careful.