Mihajlovic: We want to include Northern Macedonia and Greece in the project of a fast railway track to Budapest
Thu, 07/04/2019 - 17:04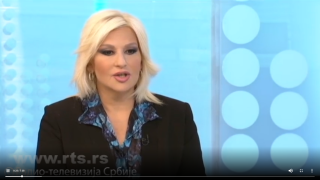 "The construction of a fast railway track from Belgrade to Budapest is the largest infrastructure project in this part of Europe and is financially demanding, given that its value in Serbia is close to two billion dollars, a total of four billion," said Deputy Prime Minister of Serbia and Minister of construction, traffic and infrastructure, Prof. Zorana Mihajlovic PhD.

She, talking today for RTS daily news, pointed out that a trilateral ministerial meeting of Serbia, PR China and Hungary will be held tomorrow in Belgrade and that the main topic will be the realization of this important project.

"From the Serbian side everything is running according to plan, two sections from Belgrade to Stara Pazova and from Stara Pazova to Novi Sad are being built. Next year, construction of the third section Novi Sad - Subotica will start. Tomorrow we will discuss the inclusion of two other countries - Northern Macedonia and Greece in this project, which is part of the global initiative "Belt and Road", " she said.

Deputy Prime Minister added that Serbia has shown that it can adhere to the agreed dynamics, especially when the railway traffic is in question, and that 700 km of railways will be reconstructed this year. She also said that she expects Northern Macedonia and Greece to show interest, despite the internal problems they have.

"Serbia is politically and financially stable, with the largest inflow of foreign investments, it is our interest to attract Northern Macedonia and Greece to this project, because it is not enough to have a fast railway track only from Belgrade to Budapest, but to connect the entire corridor," she said.