Mihajlovic: We will connect Kragujevac with Moravian corridor
Mon, 09/02/2019 - 15:07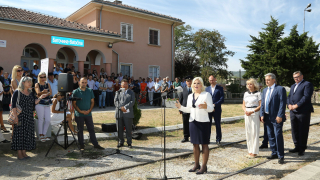 Deputy Prime Minister and Minister of Construction, Transport and Infrastructure, prof. Zorana Mihajlovic PhD., announced today in Batocina that a fast road will be built that will connect Kragujevac with Moravian Corridor, near Mrcajevci.

"We are preparing for a new project for the construction of a highway that will connect Kragujevac and Moravian Corridor, with the section of Moravian Corridor from Preljina to Kraljevo, near Mrcajevci. This section will be about 35 kilometers long, and according to initial estimates, its construction will cost about 150 million euros," Mihajlovic said after visiting the reconstruction works of Lapovo-Kragujevac railway in Batocina.
She added that there was a lot of talk about how to connect this district in the right way and that this was a good way to do it and that construction works could begin in the second half of the next year.

When asked about the completion of works on the last five kilometers of Kragujevac-Batocina section, she said that there were a lot of problems with spatial plans, expropriation, cadastre on the project, but that a contractor had been selected and the works were to be completed by March next year.

 "That road had to be completed long ago, but everyone was running away from that project. We could, but we didn't, and we will finish this project, "Mihajlovic said.
She pointed out that stories about Kragujevac being forgotten were incorrect because Serbian Government is investing in the development of all districts and cities. In addition to the roads being constructed and the railway being reconstructed, works are also underway in Kragujevac to build apartments for the security forces, she added.