Mihajlovic: We will fight for Serbia to be in the top 10 on the Doing business list, as we already are in construction permits
Mon, 10/28/2019 - 15:21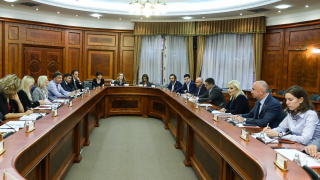 Deputy Prime Minister and Minister of Construction, Transport and Infrastructure, prof. Zorana Mihajlovic PhD, chaired today a session of the Joint Group for the Advancement of the Republic of Serbia on the World Bank's Doing Business list, at which a decision was made to draft "Serbia in the Top 10" Action Plan on this list.

"Serbia is the most competitive in the area of ​​construction permits, and the greatest progress has been made in improving the position of minority shareholders. However, we know we can do even better. If we can have continuous progress in one area, such as construction permits, we can in other areas as well, and our goal should be Serbia in the top 10 on Doing Business List," said Mihajlovic.
She emphasized that the Government of Serbia is not dealing with Doing Business List because of the list itself, but because of the citizens of our country, in order to create conditions for a better life in Serbia.

Deputy Prime Minister thanked everyone who contributed to improving Serbia's rating on the Doing Business List this year, including members of the working group, members of the Government of Serbia, NALED and the City of Belgrade.
Minister of Portfolio for Innovation and Technological Development, Nenad Popovic, Minister of State Administration and Local Self-Government, Branko Ruzic, State Secretaries at the Ministry of Trade, Tourism and Telecommunications and Ministry of Economy, Stevan Nikcevic and Dragan Stevanovic, Assistant Minister of Justice, Jelena Deretic, participated in today's session , Mayor of Belgrade, Zoran Radojicic, Director of the Office for Information and Electronic Governance, Mihajlo Jovanovic, and NALED representatives.
As a gift, all present at the session were given cup coasters in the form of rugs, handmade by women from the countryside, made as part of the initiative "Let's employ a thousand women from rural areas", as well as notebooks with the message "Being in the top 10".