Mihajlovic: We will fix everything, no one will be left without a roof over their head
Wed, 06-24-2020 - 10:12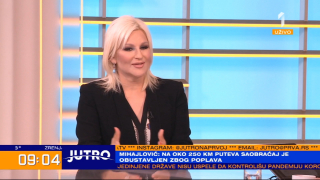 Deputy Prime Minister and Minister of Construction, Transport and Infrastructure, prof. Zorana Mihajlovic, phD, stated today that the state will repair all the damage caused by the floods in several cities in Serbia and that no one will be left without a roof over their heads.

She, as a guest in "Tema jutra" on TV Prva, said that currently the traffic is suspended at about 250 km, while 180 km of roads are passable.

"When the situation calms down and the weather conditions stabilize, we will build three destroyed bridges, we will repair the roads and we will build houses for the citizens who were left homeless." No one will be left without a roof over their head, people must have a normal life. We have experiences from 2014, everything we could learn, we learned, we passed new laws and now we are building everything new differently," she said.

Mihajlovic reminded that the demolished bridge near Ljubovija was built in 1973, and added that all state bridges are equally maintained, as well as that the state helps the reconstruction and maintenance of local roads.

"When the local self-government cannot do it alone, the state helps together with PE "Roads of Serbia". These repairs will also be done from the budget of the Republic of Serbia. "My message to the citizens is not to worry, that we are here and that we work together, we will fix everything," she concluded.