Mihajlovic: We will invest more than three billion euros in communal infrastructure
Wed, 07-29-2020 - 10:20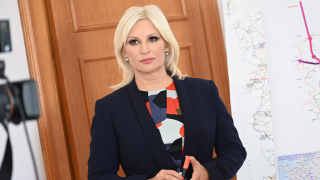 Deputy Prime Minister and Minister of Construction, Transport and Infrastructure, Prof. Zorana Mihajlovic, PhD, said that more than 3 billion euros will be invested in communal infrastructure in the whole Serbia.

She explained that close to 2.5 billion euros will be invested through projects in communal infrastructure in 70 cities and municipalities throughout Serbia, as well as close to 900 million euros through projects that are being implemented with various international partners.

"In 2021, almost 900 million euros will be invested in communal infrastructure in Belgrade, Batajnica and several other cities in Serbia, from projects with KfW Bank and Chinese partners, with whom we are working on a purifier in Belgrade." The value of the investment in the wastewater treatment system that we are building with Chinese partners is estimated at around 470 million euros, and we will realize a similar project in Batajnica with European partners," Mihajlovic told TV Prva.

She emphasized that the communal infrastructure is a condition for survival and development, and that investments in this area are being realized which has not been the case in the previous 40 or 50 years. "We are starting with another program, in 70 cities and municipalities, which will have a fully regulated sewerage network, and everything else that is needed, from water factories to wastewater treatment plants. Nearly 2.5 billion euros will be invested in that project," said Mihajlovic.

Speaking about the works on large infrastructure projects, Mihajlovic said that work is being done on all construction sites, from Belgrade-Budapest high-speed railway to the construction site of 250 kilometers of new highways. "We work everywhere, on some construction sites and in three shifts, and I am proud of every construction worker who works today. We do not currently have infected or isolated workers, and as the Ministry we have offered support to all contractors 24 hours a day, so that construction sites continue to work, because in that way we will more easily cope with the economic crisis that exists all over the world, even in our country," said Mihajlovic.