Mihajlovic: We will reconstruct Kula-Vrbas road worth 5 million euros
Wed, 05/13/2020 - 19:59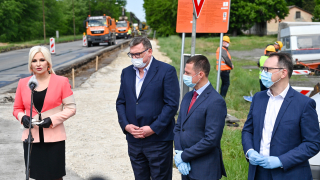 Deputy Prime Minister and Minister of Construction, Transport and Infrastructure, Prof. Zorana Mihajlovic PhD, visited today with the director of "Roads of Serbia" Zoran Drobnjak and the presidents of the municipalities of Kula and Vrbas, Damjan Miljanic and Milan Glusac, works on the rehabilitation of the state road Kula-Vrbas.
On this occasion, Mihajlovic pointed out that this is an investment worth almost five million euros and that she expects the works to be completed in November this year.
"It is a road that connects the two districts and which will not only contribute to a better quality of life for citizens, but will also ensure the arrival of new investments. The basis of economic development is infrastructure and good roads," she said.
Mihajlovic also announced the construction of a fast road from Sombor to the border with Romania, for which project documentation is being prepared.
"A very important road not only for this area, but also for the whole of Serbia." "It is estimated that this project will cost around 800 million euros, almost like Corridor 10. Due to the stable budget of the Government, we have set aside billions of dinars for road maintenance and we will continue to do that despite the problems caused by the corona virus epidemic," she said.
Deputy Prime Minister announced that she would visit all construction sites in Serbia in the coming period, in order to thank everyone who worked during the epidemic and because the construction season is in full swing.
Zoran Drobnjak said that the 10 km long section would be reconstructed, as well as that the reconstruction of Vrbas-Feketic road, 9.5 km long and worth 3.2 million euros, would be completed.
"In Serbia, 450 km of roads are being rehabilitated this year. The funds were provided from a loan from the World Bank and the European Investment Bank. In addition to the fast road, on the documentation of which we are working, a project for the rehabilitation of Sombor-Kula road is being prepared, which will cost around 10 million euros," he said.
The president of the municipality of Vrbas, Milan Glusac, emphasized the importance of rehabilitation.
"It is a very frequent section, on the border of two districts. With the completion of the reconstruction, we will provide better connectivity and increased traffic safety. "Thanks to the cooperation with the President of Serbia and the Government, we are implementing important projects in the municipality," said Glusac.
The president of the municipality of Kula, Damjan Miljanic, said that projects of vital importance for this municipality had been announced and agreed upon.
"This reconstruction includes the widening of the road, construction of bicycle paths, new lighting. In addition, we will work on two water factories, a purifier and Sivac, and several smaller road rehabilitations," said Miljanic.