Mihajlovic with the World Bank: $ 90 million to reduce the waiting time at the borders
Fri, 04-19-2019 - 11:28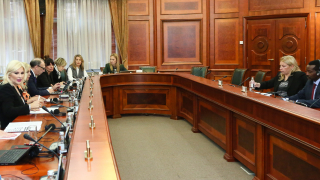 Deputy Prime Minister and Minister of Construction, Transport and Infrastructure, prof. Zorana Mihajlovic PhD., met today with the head of the World Bank Office in Serbia, Stephen Ndegwa, with whom she discussed the continuation of cooperation on projects in the field of transport, the completion of Corridor 10 and the improvement of the railway sector.

 
Mihajlovic said that the ministry that she runs has a good partner and expressed its satisfaction that the cooperation will continue through the improvement of the transport sector in Serbia.

 
"The support you provide to us in the reform of the road sector, but also the development of a transport development strategy in Serbia is extremely important to us. I believe that we will cooperate successfully in the further reform of the railway sector, we have done a lot of good work and we want to make the railways even more efficient, both in the field of governance, as well as in the structures of employees and increasing the capacity of the railways, "she said.
Stephen Ndegwa thanked Deputy Prime Minister for her commitment to projects that they jointly implemented and informed that the World Bank yesterday approved a $ 90 million regional trade and transport trade facilitation project in the Western Balkans, with a special focus on removing non-physical barriers and reducing bureaucratic borders.

 
"It is precisely the elimination of barriers to shortening the waiting time at borders one of the main initiatives of Deputy Prime Minister Mihajlovic in talks with all representatives of the countries of the region and international financial institutions," Ndegwa said.

 
The realization of the road rehabilitation project and the improvement of traffic safety, as well as the development of a study on gender equality in the transport sector, implemented by the Coordinating Body for Gender Equality with the support of the World Bank, was discussed at the meeting and it was noted that Serbia is an example of good practice in the region.