Mihajlovic with World Bank : We are strategically working on infrastructure development
Tue, 05-07-2019 - 10:50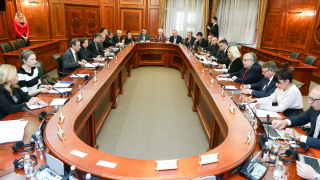 The strategy for the development of road and rail transport in Serbia, cooperation on large infrastructure projects, removal of non-physical barriers at the borders and regional connectivity, were topics of today's meeting between Deputy Prime Minister of Serbia and minister of construction, traffic and infrastructure, prof. Zorana Mihajlovic PhD., and World Bank delegation, led by Cyril Muller, Vice President of the World Bank.


Mihajlovic pointed out her satisfaction with the cooperation she had with the World Bank thus far and pointed to Serbia's strategic orientation in the upcoming period.


"The development of infrastructure is of great importance to our country. A special priority is to connect the agendas - connecting with the region and removing the non-physical barriers, because without it there is no further development. We are launching a new investment cycle worth five billion euros, we have launched a reform of the railways, but we have to do more to rebuild railways and increase traffic safety. We are also preparing a new national transport strategy that will include new programs and measures that are in line with the investments we invest in this sector, " she said.

 
Cyril Muller congratulated Deputy Prime Minister on the successful completion of Corridor 10 and added that he was pleased with the progress in the implementation of the projects.

 
"We have done a lot, especially in Corridor 10. Transport is a driving force for development and Serbia has every opportunity and capacity to be a key country that will connect the European market. We are ready to continue working together, " Muller said.


The Vice President of the World Bank pointed out that Mihajlovic is a champion when it comes to the progress of Serbia on the Doing Business list and the promotion of gender equality, and called for support for the Jadar project - one of the most important world's lithium borate sites, near Loznica.

 
Interlocutors agreed that this project is very important for Serbia, which can thus become a very attractive market for the supply of a significant percentage of world demand for lithium.


The meeting also discussed the further progress of Serbia on the Doing business list of the World Bank on business conditions, given the numerous investments and capital projects that the country is implementing, but also on cooperation in the area of ​​gender equality and the development of the first study on gender equality in the transport sector.


At the end of the meeting, Deputy Prime Minister, Ms. Mihajlovic gave an alphabet in goldsmiths to Mr. Muller, the work of women from villages who, in the framework of the initiative of the Coordination Body for Gender Equality, NALED and Ethno-Network "Let's Employ 1000 Women in the Rural Areas".