Mihajlovic:200 kilometers per hour by fast train from Belgrade to Nis,
Wed, 07-29-2020 - 10:16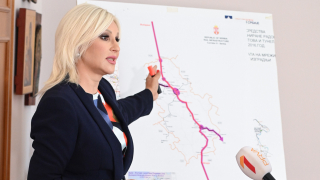 Deputy Prime Minister and Minister of Construction, Transport and Infrastructure, Prof. Zorana Mihajlovic, PhD, said today that the works on the modernization of the Belgrade-Nis railway will begin in 2021.

"As we are already modernizing the railway from Belgrade to the border with Hungary, so we will build a high-speed railway from Belgrade to Nis, for a speed of up to 200 kilometers per hour. This line is located on the railway Corridor 10, which is an important transit corridor. "As we finished the highway, so now we want to have a completely modernized railway in the same direction," Mihajlovic told TV Prva.

She added that the value of the project, on which Serbia is cooperating with the Chinese company CRBC, is estimated at around 2 billion euros. "When we talk about financing, we will see whether the construction will be financed through some kind of preferential loan, because otherwise there is such cooperation with the People's Republic of China on infrastructure projects," Mihajlovic added.

Speaking about the safety of road crossings, Mihajlovic said that about 10 million euros will be invested in increasing safety in this area.

"Every crossing is still secured with ramps or marked with traffic signs, but we must constantly appeal to people to respect traffic signs. It doesn't matter if you are a pedestrian or driving a car, pay attention to traffic signs, stop before crossing. It is a tragedy every time someone is injured, let alone when someone loses their life ", stated Mihajlovic.