Mihajovic with transport ministers of Bulgaria, Romania and Greece on new projects - one of the topics was highway Pancevo-Timisoara
Sat, 03/30/2019 - 07:02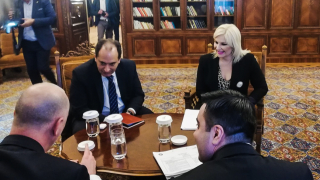 Deputy Prime Minister of Serbia and Minister of Construction, Transport and Infrastructure, prof. Zorana Mihajlovic PhD., spoke today with ministers of transport of Bulgaria, Romania and Greece, during the quadrilateral meeting in Bucharest.


In a meeting between Serbian Deputy Prime Minister and Minister of Infrastructure and Transport of Greece Christos Spirtzis, Romanian Transport Minister Razvan Cuc and Minister of Transport, Information Technologies and Communications of Bulgaria Rossen Jeliazkov, current and planned infrastructure projects were discussed as they will contribute to better integration of the region, including the construction of a new highway from Pancevo to Timisoara.

Mihajlovic stressed that regional connectivity is the priority for the Government of Serbia, and that most of the projects in the new investment cycle, worth more than 5 billion euros, are projects of regional importance.

"Thanks to investments in infrastructure in previous years and new projects that we are beginning to realize, physical barriers are slowly losing the importance. The main obstacle to economic growth and the efficiency of the economy are now becoming non-physical barriers. This is a question in which we need to be unique, and that besides connecting with highways and railways, we need to work together to establish common border crossings, in order to shorten the waiting time for goods at the borders, "Mihajlovic said.