Short stay at the border crossings is a common goal of the Government and the carriers
Tue, 05-07-2019 - 15:32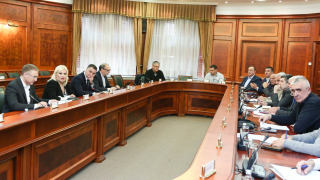 Deputy Prime Minister and Minister of Construction, Transport and Infrastructure, prof. Zorana Mihajlovic PhD., Deputy Prime Minister and Minister of the Interior Affairs Nebojsa Stefanovic and Minister of Finance, Sinisa Mali ,talked with the representatives of road transport associations today about the problem of long-haul vehicles at border crossings.

"For us as a state, infrastructure is no longer a problem, because we are ending Corridor 10 and building new highways, but there are problems of non-physical barriers. For the competitiveness of our economy, it is important that we have the fastest possible transport and the most efficient procedures at border crossings and wherever there is a possibility we will work to make it more efficient and faster in that part, "Mihajlovic said.

Minister of the Interior Affairs, Nebojsa Stefanovic, said that the retention at the borders can be shortened through the infrastructure expansion of border crossings, but that the measures taken by the EU members to control illegal migration, which also affects the time of the retention at the border, must be taken into account.

Minister of Finance, Sinisa Mali, said that in the dialogue with carriers, the maximum cost of parking at border crossings has already been limited, and that it will work to enable more efficient operation of internal customs terminals.

Representatives of the carrier associations have introduced members of the Government with the problems they face due to the long stay at the border crossings and made certain proposals regarding the solution of these problems in practice.

At the meeting, it was agreed that all carrier initiatives should be considered, in order to further their implementation, wherever there are opportunities to make the procedures more efficient.

The meeting was attended by representatives of the Business Association of International Road Carriers "International Transport", the Chamber of Commerce "International Transport and Logistics", the Association for International Transport, the Association "Vojvodjanin", the Business Association of Road Transport "Srbijatransport", as well as the Group for the transport of goods in road traffic - Serbian Chamber of Commerce.