Deputy Prime Minister and Minister
prof. Zorana Z. Mihajlovic, PhD.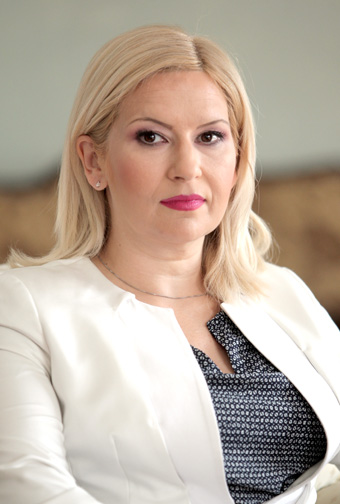 Prof. Zorana Z. Mihajlovic PhD. was born in 1970 in Tuzla. She graduated in 1993 and received her doctorate in 2001 at the Faculty of Economics in Belgrade in the field of Energy and Economics. The appointment of the Associate Professor and Vice-Rector for Science at the University John Nezbit, she gained in October 2011 and in 2016 was appointed as a full-time professor at this university.
Ms. Mihajlovic worked in the First Economics High School and EPS - Elektroistok. From 2004 to 2006 she was the Advisor to the Deputy Prime Minister of the Republic of Serbia for Energy. Prof. Zorana Z. Mihajlovic PhD became Energy Adviser to Republika Srpska Prime Minister, Milorad Dodik, in 2010.
Deputy Prime Minister, Ms. Mihajlovic, is the author and co-author of four books in the field of energy and sustainable development. She has published more than two hundred scientific papers on the problems and possibilities of the Serbian energy sector.
She is the president of the SNS Energy and Mining Council since 2009, the party's vice president since 2012, and since mid-2016 she was a member of the SNS presidency.
From 2012 to 2014, Prof. Zorana Z. Mihajlovic PhD was the Governor of Serbia in EBRD.


She was appointed Minister of Energy, Development and Environmental Protection in 2012, and since 2014 she is Deputy Prime Minister and Minister of Construction, Transport and Infrastructure. The portfolio of the Ministry, headed by the value of infrastructure projects, is close to 10 billion euros. In the same mandate, Deputy Prime Minister was appointed the President of Coordination Body for Gender Equality, as well as the responsible person on behalf of the Government on issues of inclusion of Roma. Ms. Mihajlovic chairs the Joint Government Group of the RS with the task of defining concrete measures for improving the position of the Republic of Serbia on the Doing Business list of the World Bank and the Council of Foreign Investors. She is the President of the Coordination Body to support the implementation of projects, investments in the reconstruction and / or construction of clinical health centers.
Prof. Zorana Z. Mihajlovic PhD was chosen twice for the "Reformer of the Year" in the National Alliance for Local Economic Development (NALED). For the first time, she received the award in 2014 for comprehensive construction permit approvals, and for the second time, the "Reformator 2016" award was granted to her for decades of reform in this area.
Deputy Prime Minister is also a member of the Council of the University of Belgrade and the Managing Board of the Development Fund. She is the founder of an NGO- Women's Government, a member of the European Movement in Serbia and East West Bridge organization.

She is the mother of one son.

Fluent in English.
Interviews and statements